GOODNEWS MINISTRY, EJULE.
INTRODUCTION
Goodnews Ministries is an indigenous ministry located in Nigeria with its headquarters in Ejule, Ofu Local Government Area of Kogi State.The Ministry came into being in the month of May, 1988 with Evangelist Daniel O. Idih called and commissioned by God as the head of this mandate. Thereafter he got married in December of 1992 to his lovely wife, Evangelist (Mrs.) Grace I. Idih, who is also called, commissioned and serving the Lord on a full time basis.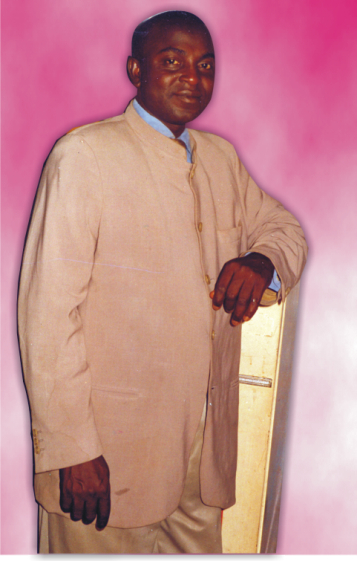 Rev. Daniel Idih
The Vision
" God's Word is God's total answer for man's total need(s)". Our vision is to take the total man; and training (or discipling) them to be the followers of Christ. Thereafter, they are commissioned as the needed solution to our generation.
Our heartbeat for this generation is for an indepth all-compassing revivals (among the Saints) and the harvest of souls and nations to the Lord.
ARMS OF THE MINISTRY

GOSPEL OUTREACHES
We believe that any soul is really within God's reach. So the act of preaching the Gospel (either on a one-to-one or mass evangelism basis) is mandatory to us. We therefore take the Gospel from place to place (i.e. from village-to-village, city-to-city, school-to-school, Church-to-Church etc.). We plan Gospel outreaches in areas God leads us to and also in response to invitations.
Gospel-on-Wheels
This is a one-full day (24 Hours) strategic outreach programme to unreached places, in company of Medical team, team of teachers and giving helping hands to orphans, widows and the less privileged ones like the disabled and the destitute. We reach such areas in direct response to our personal survey or through invitations. This is a programme of great and resultful interest, so if you interested in any way, you may contact us rightway for further information and support.
Deliverance / Healing Ministration
" .................In My name shall they cast out devils;… they shall lay hands on the sick, and they shall recover". Mark16:17-18.

God has been so merciful to us in confirming His Word to us from time to time and from place to place as we minister to simple and complex demonic and health-related cases, ranging from individuals to family and land deliverances.
Gilead Lodge
In response to the mandate – "Heal, Deliver and Disciple", the sick, depressed, oppressed and possessed, the Gilead Lodge has come to be in the ministry's permanent site. Equally, because some healing or deliverance cases has relatively slow processes at times, this lodge stand at the advantage of such slow recipients of these divine privileges. This is commonly seen among mad (lunatic) and anxiety related cases.


DISCIPLESHIP TRAINING

Discipleship Training is God's means of concentrating believers in Christ both for personal lifestyle and fruit-bearing service to our King. In this respect, a systematic discipleship programme is being put in place for believers from the first day thy accepted Christ as their personal Saviour till they are nurtured to maturity.

Also, an Advanced Discipleship Training is available for those who have graduated the elementary Discipleship programme. Presently, we undertake a continuous Discipleship (Fellowship) programme on a weekly basis (every Friday at 4:00 pm) at the National Headquarters (G.R.A – God's Reservation Avenue, Ejule). Henceforth, the following extension programmes will commence on an intensive basis.
Distant Correspondence Discipleship Training (D.C.M); (Through postage, Internet, etc.)
Discipleship Through the Media; (Through audio/video tapes, Radio, Television programmes)

Contact us now for details and support.
CHRISTIAN FAMILY LIFESTYLE
(A Marriage Enrichment Programme)
The Family is that special institutional unit where practical Christianity is experienced on a day–to-day basis. In essence, one's overall success is pivoted on the pillars of a balanced marriage. We believe that only God can properly set the solitary in family. Also, God's Word has the potentials of making bad marriages good and good ones better.
In CFL Department, special attention is given to singles (who are mature enough to marry), the married couples, childhood and parenting; infact, the family in whole. Our great expectation is to see God's mandate enforced in every family in the society, especially in believer's homes. This is done through specially arranged counselling, seminars (like Singles Aglow, Couples Retreat / Convention(s) and "Teach them to Grow in Godliness' Seminars.

EDUCATION DEPARTMENT
DOMINION ACADEMY INSTITUTE
(Center of Academic Excellence and Strategic Studies)
Email: dominionacademy@yahoo.com

"Learning Add Life to Life". The Goodnews Ministries presently embarks on creating the legacy of a standard and qualitative education, with soul winning and training as our focal point. The total man which comprises of the soul, spirit and body needs education and we are duty-bound for this task.

Dominion Academy Institute comprises of five(5) major departments:
Day-Care & Nursery Department
Primary Department
Adult - Primary School Department
Commercial Science Secondary School
Tertiary Department (To be established in the nearest future).
The motto of the school is "EXCELLENT TRAINING FOR SELF-RELIANCE". We train students to be self-reliant (while in school and after school). This is acheived through involving them in extra-curricular trainings (like secretariate activities, computer science, craft-work etc.). Students are actually trained to 'Do Things Themselves'.

As a policy of the institution, orphans and disables are rendered tuition-free services.


FORTH-COMING PROGRAMS:

DIVINE ENCOUNTER NIGHTS (10:00pm till Dawn)
1st Day of Every Month - Ejule(G.R.A. Ochadamu Road)
15th Day of Every Month - Dekina (C.E.F.N Auditorium)

CHRISTIAN FAMILY LIFESTYLE (CFL) - (A Marriage Enrichment Seminar)
September 10th - 12th, 2004 - Singles Aglow Seminar, CAN Youths, Dekina.
September 15th - 18th, 2004 - Ankpa City-Wide Couple's Retreat.
September 23rd - 25th, 2004 - Family Life Seminar, CRM Keffi, Nassarawa State.
October 8th - 10th, 2004 - Family Life Seminar, Communion Church, Abuja.
October 28th - 31st, 2004 - Christian Family Lifestyle Seminar, God's Care Missions, Okpo.

END OF THE YEAR THANKSGIVING
November 26th, 2004 - Goodnews Ministries(The Potter's Embassy), Ejule

EVANGELIST DANIEL & GRACE IDIH'S 12TH YEAR ANNIVERSARY CELEBRATION
December 12th, 2004

PRAYERQUAKE & FASTING REVIVALS
January 2nd - 31st, 2005 - Goodnews Ministries(The Potter's Embassy), Ejule

EVANGELIST DANIEL IDIH'S 40TH BIRTHDAY CELEBRATION
February 12th, 2005

SHOWERS 2005 CRUSADE / CONVENTION
March 7th - 13th, 2005

NATIONAL COUPLE'S SUMMIT 2005
November 2nd - 5th, 2005
PRAYER REQUESTS:
Thank God for granting us grace to know and serve Him in His vineyard. The strength, health, protection and encouragements hitherto has been so great.



Pray that God should send more labourers into the work He has committed into our hands. We need more grace, health, provision etc. for all the ministry staff and their families.


Pray for great and effectual doors to be opened to us in various lands, denominations, institutions, groups, nations etc. We have a deep sense of spiritual indebtedness to various places that need our services on earth; only God can make the in-roads as well as the provisions for such places available.


We need standard outreach equipments (gadgets) like Public Address Systems (PAS), Generator, Gospel Vans, Mobile Outreach Stage etc. Our Gospel Van (an old Niva 1600 Jeep) had a serious accident quite some years now and since then, every effort to bring it back on road proved abortive. We have really suffered a great setback as far as Gospel Outreaches are concerned.


Gospel-on-Wheels has equally not functioned for about 3 years now. The core reason is the fact stated above about our Gospel Van. We are presently working modalities for the restoration of this arm of the ministry. Please pray along with us that God will mobilise us and provide materials (for shelter, clothing, feeding, financing, education, medication) for free distributions to orphans, widows and the less privileged ones in the society as we take the total Gospel to them.
Address: No. 90 Ochadamu Road, P. O. Box 200, Ejule - Kogi State. Nigeria.

Email Addresses:goodnews@ugane.org
danielidih@yahoo.com